Trends Of The Wedding Dresses
Posted by: stylewedds on: August 24, 2012
Colour
Bridal collections now include color splashed gowns mostly with blush pinks and blue. Remarkable designers such as Oscar de la Renta, Vera Wang & Douglas Hannant have incorporated colored gowns to their collections. Your guests will be amazed when they see you walk through the aisle!
Peplums
The peplum on a dress is a type of overskirt which extends from and defines the waist. They bring a bit of runway fashion to a wedding dress with structured layering and draping. If you wish to create a visual volume in your hips, the peplums are a great and trend fashion option.
Convertible
A good idea for Brides who are looking for an option for the ceremony, the reception and the after party. They generally have layers that you can take off to make the dress lighter and freer to move around, dance and celebrate with your family and friends. For a Wedding in Los Cabos, we suggest a fresh and comfortable convertible dress, with a short skirt for after the ceremony and reception.
Lace
Lace has been always a favorite for fashion designers, but there has been a big increase in use since we saw Kate Middleton's dress last year, we loved it! Lace will always be feminine, romantic, elegant and classic. There are various laces types, the most commons are: Chantilly, Duchesse, Guipure, Schiffli & Venetian.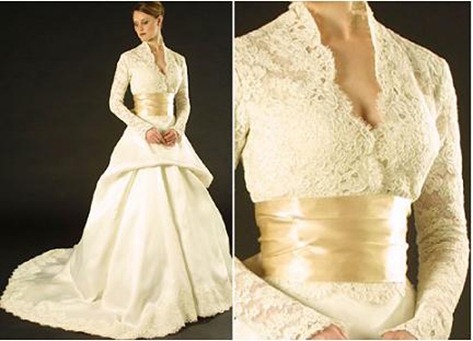 Portrait Backs
A gown with a portrait back is an unexpected surprise and a delight for the photographers! With intricate detail over a sheer panel back, these dresses look great in photos. It could be a sophisticated design or a simple screen with embroidered patterns.
Unique, Flawless & Romantic
Style Wedding!